Arti Gallery Silver Picture Hanging System Deluxe Rail Kit (With Twister & Slider Nylon Cables)
ART DISPLAY SYSTEMS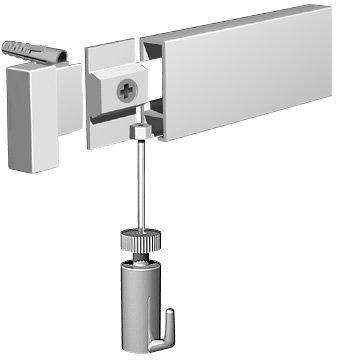 European sleek design of the art of displays is what this hanging system offers you!

With this system you have the flexibility to change the picture images that you display in your residential and commercial interior space, regardless the shape, size, color tone, material; now you have a display solution in your hand that grow with you and adjust to your need and your mood! Beyond no more nail! This is how you create a true interior space that matches your soul along with the changes in life, career and work! This is the true expression and reflection of yourself!!!

ONE 6 1/2 FT OR 200 CM LONG SILVER PICTURE RAIL & FOUR SLIDER NYLON CABLES (6 1/2 FT LONG SLIDING NYLON PICTURE HANGING CABLES x 4) AS WELL AS TWO 6 1/2 FT NEWLY DESIGNED ADVANCED TWISTER NYLON CABLES

ADDITIONALLY, SIX OF MEDIUM ADJUSTABLE PICTURE HANGING HOOKS (3900115 x 6) AND FOUR LARGE ADJUSTABLE PICTURE HANGING HOOKS ( 3900014G x 4) AS WELL AS TWO EXTRA LARGE HEAVY DUTY SELF-GRIPPING PICTURE HOOKS (3900018 x 2)

ALONG WITH ALL NECESSARY INSTALLATION HARDWARE AND 2 END CAPS!
›
See more product details
ARTI GALLERY PICTURE HANGING SYSTEM DELUXE KIT offers an elegant solutions to your commercial and residential interior space with a touch of sleek and modern design! This kit includes: (1) one 6 1/2 ft or 200 cm silver picture rail (3900200L); (2) two end caps (3900207L); (3) all necessary installation hardware; (4) FOUR of 6 1/2 ft Slider nylon hanging cables (3900024S x 4); (5) AS WELL AS TWO 6 1/2 FT NEWLY DESIGNED ADVANCED TWISTER NYLON CABLES (6) SIX medium adjustable picture hooks (3900115 x 6); (7) 4 Large adjustable picture hooks (3900014G x 4) with side-loaded screws as pictured; (8) 2 Extra large self-gripping picture hooks (3800018 x 2); (9) free sample hooks subject to availability. This kit puts together everything you need for your commercial or residential display project!
- Our couriers offer a cost effective, reliable courier service to Ireland & UK.
- It is backed up by parcel tracking on courier site.
- We charge a flat rate of €15 per shipment in Ireland and €20 to UK.
- Note price of frames includes vat @ 23%.
- Our handling & despatch time for handmade framing orders for which we have received full payment is 3-7 days.
- If you need your order sooner let us know and we will expedite it.
- Once your goods are dispatched, you will receive a track and trace number.
- Please note our orders are custom-made for you, and some may require more time.
- For unusual size shipments we may need to review P&P charges.
Pauline Bewick, Artist, Glenbeigh
'It is rare to get a framer who can lay his hands on the best quality acid free boards, a range of the best picture glass, and such a large selection of mouldings. I have found it a pleasure to work with the Quality Framing Company.'

Go.Golfing.ie
Professional & Good Service. I have used Quality Framing for a number of years now and i can highly recommend them for both quality and service.
Conor Lane, All Ireland Final Referee
Medals Framing. The quality was very good and the people in the shop were very helpful.

Ciara O'Donnell Photography
The best service & products in Kerry. I always use QFC and find their service and products excellent. They always give the best advice and the prices are great too. High quality is hard to find.