Baby Grows Gift Frame
qfc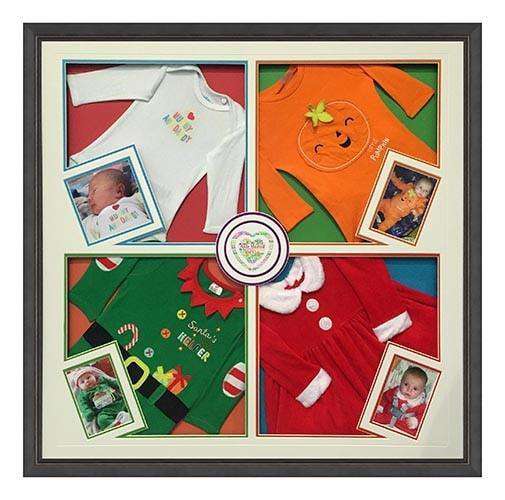 Commemoration of the 50th anniversary of the Rising of Easter Week, 1916.
The Medal was issued to surviving participants only for recognised military service during Easter Week 1916. - See more at: http://www.militaryarchives.ie/en/collections/online-collections/military-service-pensions-collection/about-the-collection/medals-awarded-1916-1923#sthash.CODYMm8t.dpuf
A BABY FOR ALL SEASONS
mummy & daddy, little pumpkin, santa's little helper, baby in red - a majic time framed for a much loved baby.
Would you like to mark the first year of your babies most important milestones with a special custom frame?
We would love to create that "time capsule" for you. Did you notice the beautiful heart made up of Aoife's birth records?
Frame Details: Outside Frame Size: 35"x35 inches (90cmx90cm); Frame Width: 27mm Rebate Depth: 36mm  Colour: available in Black or White moulding

Every great picture framing design has a heart. Call Nuala or Geraldine on 066 718196 today for your heart......
To Order:

(A) phone our shop on 066 7181496 with your baby item details.
- we will give you advice and an estimated delivery date.
- on receipt of items a deposit of 50% is taken with credit card.
- on order completion we send you a photo of finished order. When you confirm everything is beautiful the order balance is taken then and we will deliver your gift frame.
OR
(B) order from site including full payment and any instructions, photos & instructions. 
- 15% DISCOUNT  if you order online. Enter 15%OFONLINE-DSJ code at checkout.
- we will then ring you and also email you to confirm the design details.
- and give you an estimated delivery date.
- on order completion we send you a photo of finished order. When you confirm everything is beautiful we will deliver your gift frame.
Your Baby's Items to Us ?



(A) you will need to register & post your jersey to:  The Quality Framing Company, Matt Talbot Road, Tralee, Co. Kerry.
(B) or hand in to our showroom in Tralee.

Gift Frame to You ?



(A) we will courier your finished designer jersey to your address free of charge **
(B) or collect from our showroom in Tralee.
Whatever

You

Love

Framed

®
- Our couriers offer a cost effective, reliable courier service to Ireland & UK.
- It is backed up by parcel tracking on courier site.
- We charge a flat rate of €15 per shipment in Ireland and €20 to UK.
- Note price of frames includes vat @ 23%.
- Our handling & despatch time for handmade framing orders for which we have received full payment is 3-7 days.
- If you need your order sooner let us know and we will expedite it.
- Once your goods are dispatched, you will receive a track and trace number.
- Please note our orders are custom-made for you, and some may require more time.
- For unusual size shipments we may need to review P&P charges.
Pauline Bewick, Artist, Glenbeigh
'It is rare to get a framer who can lay his hands on the best quality acid free boards, a range of the best picture glass, and such a large selection of mouldings. I have found it a pleasure to work with the Quality Framing Company.'

Go.Golfing.ie
Professional & Good Service. I have used Quality Framing for a number of years now and i can highly recommend them for both quality and service.
Conor Lane, All Ireland Final Referee
Medals Framing. The quality was very good and the people in the shop were very helpful.

Ciara O'Donnell Photography
The best service & products in Kerry. I always use QFC and find their service and products excellent. They always give the best advice and the prices are great too. High quality is hard to find.