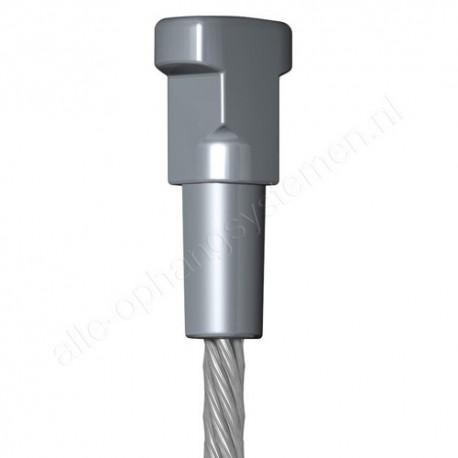 This wire has a weight carrying capacity of 20kg.
This wire ensures that you have a reliable picture hanging system. The steel wire will come with a Twister fitting at the top. The Twister offers the most logical way of hooking: turn, click and go! Hang your art directly to the desired location; at any location. The Twister is a unique innovation that enables you to attach quickly and easily, to move and remove.

The Twister is supplied with steel wire, which has a thickness of 1.8 mm and a maximum weight-carrying capacity up to 20kg. These wires are not suitable for the various STAS rail profiles.This type of rail mounting is also available in perlon.
6010100
K2-R1
Data sheet
Wire thickness

2mm

Carrying capacity per wire

20kg

Wire fixing

Twister

Colour

Stainless steel

Delivery time

In stock
- Our couriers offer a cost effective, reliable courier service to Ireland & UK.
- It is backed up by parcel tracking on courier site.
- We charge a flat rate of €15 per shipment in Ireland and €20 to UK.
- Note price of frames includes vat @ 23%.
- Our handling & despatch time for handmade framing orders for which we have received full payment is 3-7 days.
- If you need your order sooner let us know and we will expedite it.
- Once your goods are dispatched, you will receive a track and trace number.
- Please note our orders are custom-made for you, and some may require more time.
- For unusual size shipments we may need to review P&P charges.
Pauline Bewick, Artist, Glenbeigh
'It is rare to get a framer who can lay his hands on the best quality acid free boards, a range of the best picture glass, and such a large selection of mouldings. I have found it a pleasure to work with the Quality Framing Company.'

Go.Golfing.ie
Professional & Good Service. I have used Quality Framing for a number of years now and i can highly recommend them for both quality and service.
Conor Lane, All Ireland Final Referee
Medals Framing. The quality was very good and the people in the shop were very helpful.

Ciara O'Donnell Photography
The best service & products in Kerry. I always use QFC and find their service and products excellent. They always give the best advice and the prices are great too. High quality is hard to find.