The Farmers Creed Gift Frame
qfc.ie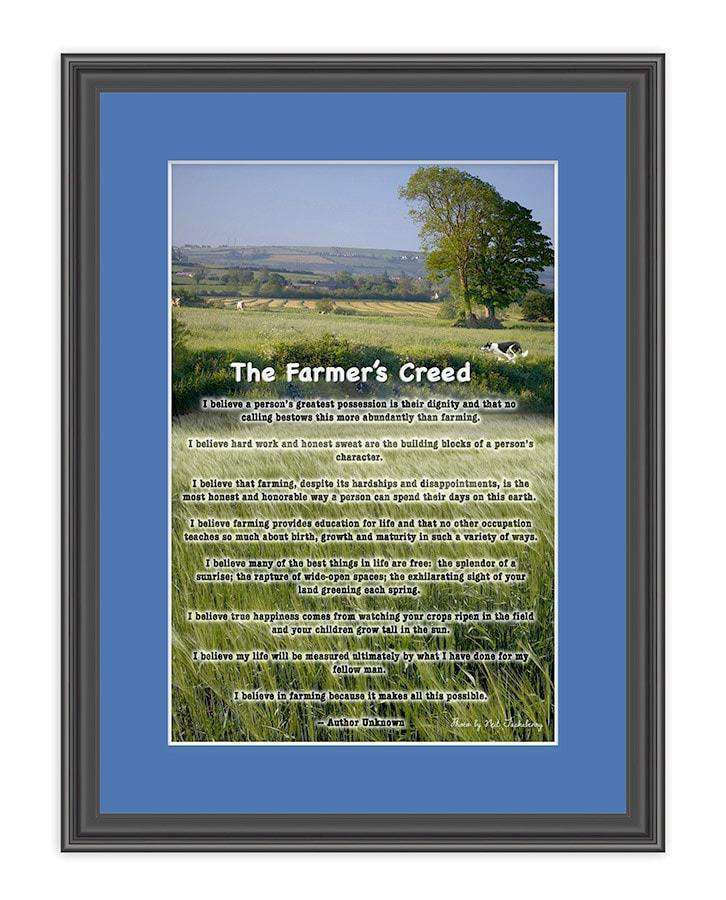 a 12"x8" sized print of this powerful poem which sings the praises of a life on the land.
Framed in a black frame with a blue mount (mounts & frame can be changed to suit).
Also 12"x8" & 24"x16" print sizes now available.
Picture courtesy of Neil Tackaberry.
Words as follows-
The Farmer's Creed
I believe a person's greatest possession is their dignity and that no 
calling bestows this more abundantly than farming.
I believe hard work and honest sweat are the building blocks of a person's
character. 
I believe that farming, despite its hardships and disappointments, is the
most honest and honorable way a person can spend their days on this earth. 
I believe farming provides education for life and that no other occupation
teaches so much about birth, growth and maturity in such a variety of ways.
I believe many of the best things in life are free:  the splendor of a
sunrise; the rapture of wide-open spaces; the exhilarating sight of your
land greening each spring. 
I believe true happiness comes from watching your crops ripen in the field
and your children grow tall in the sun.
I believe my life will be measured ultimately by what I have done for my
fellow man. 
I believe in farming because it makes all this possible.
— Author Unknown
- Our couriers offer a cost effective, reliable courier service to Ireland & UK.
- It is backed up by parcel tracking on courier site.
- We charge a flat rate of €15 per shipment in Ireland and €20 to UK.
- Note price of frames includes vat @ 23%.
- Our handling & despatch time for handmade framing orders for which we have received full payment is 3-7 days.
- If you need your order sooner let us know and we will expedite it.
- Once your goods are dispatched, you will receive a track and trace number.
- Please note our orders are custom-made for you, and some may require more time.
- For unusual size shipments we may need to review P&P charges.
Pauline Bewick, Artist, Glenbeigh
'It is rare to get a framer who can lay his hands on the best quality acid free boards, a range of the best picture glass, and such a large selection of mouldings. I have found it a pleasure to work with the Quality Framing Company.'

Go.Golfing.ie
Professional & Good Service. I have used Quality Framing for a number of years now and i can highly recommend them for both quality and service.
Conor Lane, All Ireland Final Referee
Medals Framing. The quality was very good and the people in the shop were very helpful.

Ciara O'Donnell Photography
The best service & products in Kerry. I always use QFC and find their service and products excellent. They always give the best advice and the prices are great too. High quality is hard to find.