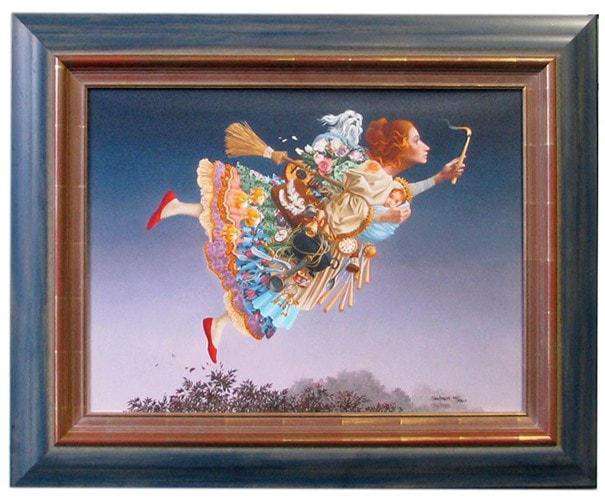 A rare limited edition canvas signed by best selling american artist, James Christensen (d. January 2017), of an edition giclee has long sold out at the publishers.
Signed and numbered by the artist the mage size is 18" x 24" approx. and the  edition number is 444/MMVI. The outside of the Honfleur frame is 31"x26" approx..


artist's comments:
"The reason it is'nt called 'The Burden of the Responsible oman' is that she's so busy she doesn't have time to be burdened! When I asked my wife, Carol, about her burdens, she gave me a funny look and said, 'I don't have time to be burdened.' When you've got so many things going, you might not have time to ponder."

Instead, you can enjoy imagining the meaning behind every part of Christensen's image. Even a cursory glance will reveal evidence of health, happiness, career, and family, as well as the more mundane implements of cooking and cleaning.

"Specifically, what you have here is 'woman as a spiritual leader,'" says Christensen. "She has a candle, which is my way of showing that she is carrying the torch, leading the way. You notice that she has spare candles. Candles are symbols of light and wisdom. She also has a many-handed clock, which could mean several things, and then there is a compass, I put that in at the last minute, because today's woman really has to try to find her direction. The compass is there to help her figure out which way she's trying to go."

It's all part of the artist's homage to the amazing modern woman. Give the gift of gratitude and honor your favorite responsible woman.
- Our couriers offer a cost effective, reliable courier service to Ireland & UK.
- It is backed up by parcel tracking on courier site.
- We charge a flat rate of €15 per shipment in Ireland and €20 to UK.
- Note price of frames includes vat @ 23%.
- Our handling & despatch time for handmade framing orders for which we have received full payment is 3-7 days.
- If you need your order sooner let us know and we will expedite it.
- Once your goods are dispatched, you will receive a track and trace number.
- Please note our orders are custom-made for you, and some may require more time.
- For unusual size shipments we may need to review P&P charges.
Pauline Bewick, Artist, Glenbeigh
'It is rare to get a framer who can lay his hands on the best quality acid free boards, a range of the best picture glass, and such a large selection of mouldings. I have found it a pleasure to work with the Quality Framing Company.'

Go.Golfing.ie
Professional & Good Service. I have used Quality Framing for a number of years now and i can highly recommend them for both quality and service.
Conor Lane, All Ireland Final Referee
Medals Framing. The quality was very good and the people in the shop were very helpful.

Ciara O'Donnell Photography
The best service & products in Kerry. I always use QFC and find their service and products excellent. They always give the best advice and the prices are great too. High quality is hard to find.